---
There's nothing cooler than seeing a strong female take the lead role in a movie or TV show, am I right?! Yep, in the words of Queen Bey, girls really do run the world – and it seems they also run the world of geekiness. It's all about girl power, it's all about strong role models, it's all about entertaining the world, and it's all about showing equality rather than segregation in a male-dominated industry. Whether you see geekiness as a sign of intelligence or sign of quirkiness, you'll love these best female-led geeky comedies…
New Girl
Who's that girl?! It's Jess! This hilarious American sitcom follows the life of Jessica Day as she makes her way through life. Of course, no sitcom would be complete without a little bit of geeky quirkiness, and Jess is full of it. With her love of singing at the most inappropriate moments, her complete lack of schmoozing ability, and her weird and wonderful humor, Jess is the kind of girl we all want to be friends with – even if she is a little all over the place. As if her life wasn't already a bit chaotic, Jess decides to move into an apartment full of men who all have their own issues.
Mean Girls
If you haven't watched Mean Girls yet, you need to get on that ASAP. After all, this movie can teach you all kinds of intelligent information – such as the fact that you have to wear pink on Wednesdays, and that butter might be a carb. This epic movie is almost complete overrun with strong female characters, even though they can be a bit mean at times. Nevertheless, we get to watch Cady Heron make her way into the wild space of American high school and try to find her groove in typical teenage life. Can she make it as a mathlete or will she get sucked into the charms of the Plastics?
Ghostbusters
In 2016, some of the strongest women in Hollywood teamed together to bring us a modern all-female adaptation of the sci-fi classic, Ghostbusters. Starring the likes of Kristen Wiig, Melissa McCarthy, Kate McKinnon and more, this movie follows the life of the women trying to prove that spirits really do exist in our world. These ladies join forces to create one mega-team of women and get their boiler suits on to wander around Manhattan and check out the ghosts. While there are a few men in this movie, we just can't get enough of the strong female characters, and of course, the geekiness!
The Mindy Project
The Mindy Project is the kind of show that you'll watch one episode of and get sucked in. Trust us; we've experienced this for ourselves. This hilarious comedy show was created by the actress and comedian, Mindy Kaling, and follows her characters' life as a successful doctor. Well, kinda. While she has all of the qualifications to be a successful doctor, her personal life is not quite as successful as she would like. From failed relationships to awkward encounters, and more, Mindy is the kind of woman we can all relate to. Life isn't perfect, but so what?
Unbreakable Kimmy Schmidt
They alive! It's a miracle! Unbreakable Kimmy Schmidt is one of the goofiest shows you will ever watch in your life, but it's so worth it. This show follows the life of Kimmy, who is rescued from a bunker after spending much of her life under the power of an evil cult leader. As she makes her way to New York City, Kimmy is overwhelmed. She has been shut off from society from years and has no idea how to live as a normal human being. In fact, this is the reason why we love her so much. She is weird, she is wonderful, and she is completely herself.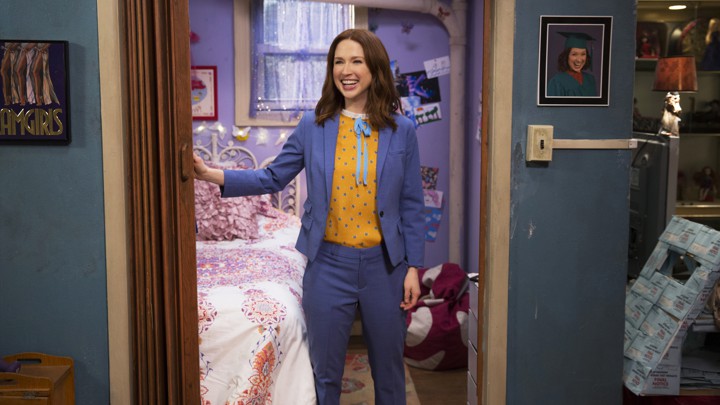 Have you watched these female-led comedies yet? Well, cancel your plans because you have a date with your television…